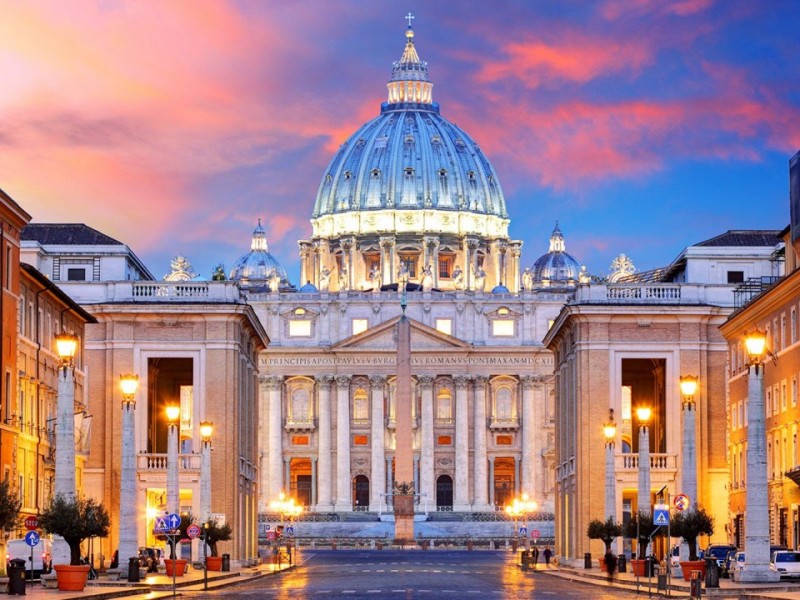 ITINERARY
The Tour will begin with a visit of the Colosseum (outside) or Flavian Amphitheater, whose construction was opened in '80 with the games that lasted 100 days and saw the massacre of five thousand wild beast. We will pass the Roman Forum, cultural, artistic and religious centre of ancient Rome.
We will continue guiding you through Venice Square, where you can admire the Vittoriano or Altare della Patria ("the wedding cake") built and designed by Giuseppe Sacconi in 1885 and the balcony if Benito Mussolini from where he spoke to the people by declaring the Italian entry into Wolrd War II against France and Great Britain.
Moving on to Via del Corso we will stop at the Trevi Fountain and the Spanish Steps.
We will continue with the fantastic view of Rome from Pincio and descending from Popolo Square, the famous square rebuilt entirely between 1811 and 1816 by the famous architect Valadier. We will stop at the Pantheon, the Temple of all gods, built by Marcus Agrippa in 27 BC and entirely rebuilt by Hadrian.
Last stop of our tour will be at Navona Square, corresponding to the Stadium of Domitian, where you can admire the Fountain of Neptune (Giacomo della Porta - 1586) and the imposing Church of St. Agnes in Agony of Borromini.
At the end of your tour our driver will take you back to your Hotel or leave you where you want.
WHAT YOU CAN EXPECT:
Hotel Pick up/Drop off
Bottled Water
English speaking driver
Air conditioned Sedan/minivan
SUMMARY:
- Pantheon
- Piazza Navona
- Colosseum (outside)
- Roman Forum (outside)
- Piazza Venezia
- The Vittoriano
- Trevi Fountain
ADDITIONAL INFO:
- You will receive the voucher after the booking online
- Price per group/vechile (maximum 8 passengers)
- The visit of the sights will depend on traffic of the day
- You can present the voucher either on a paper or on your electronic devices
- The drivers are not official tour guides and can only provide basic information on the sites you are visiting
CANCELLATION POLICY:
You can always cancel the service. If you prepaid the service we refund you 100% if you cancel 24 hours before the service. No refund in case you cancel the service the day of your tour.