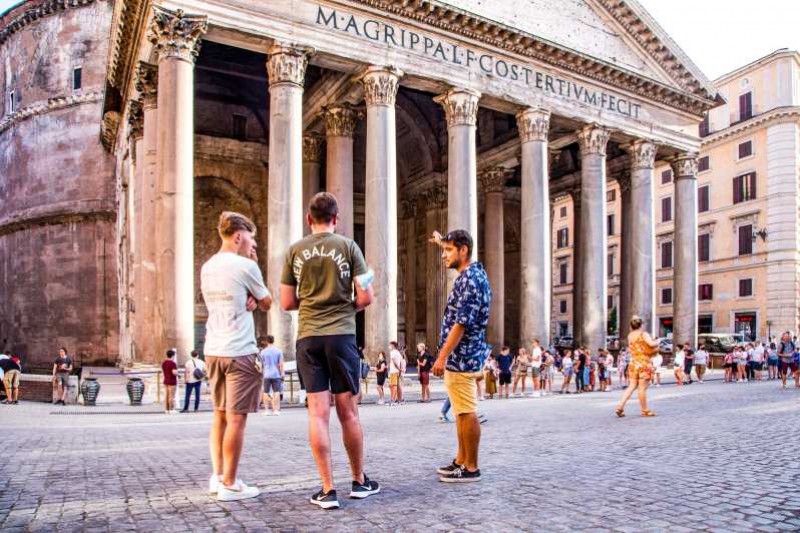 Pick up at Civitavecchia Port where you will meet your driver. The meeting point will be always beneath your cruise ship. He will help you with your luggage through the way to our comfortable and elegant van or car. After about 1 ½ hours (depending on the traffic) you will reach Rome City and you will start visiting the Eternal city and the most importatn sights (2-3-4 hours).
We will drive you to the Pantheon, the Temple of all gods. The Pantheon was built in Rome between 118 and 128 AD under Emperor Hadrian.
Once arrived to the Flavian Amphitheatre (Colosseum) you will travel along the Fori Imperiali to the Piazza Venezia where you can admire The Vittoriano (Altar of the Fatherland) and the balcony from which Benito Mussolini declared the world war II against France and Britain.
Continuing along Via del Corso we will bring you to the Trevi Fountain, the clear Baroque style is the work of Nicola Salvi. The artist was responsible for the construction of the fountain in the eighteenth century after winning a competition organised by Pope Clement XII.
Finally, we will guide you through the Spanish Steps where you can admire the famous Spanish Steps and the Fountain of Four Rivers by Pietro Bernini (Gian Lorenzo's father) and further on to Piazza del Popolo and its majestic obelisk (Ramses II).
The tour will conclude visiting St. Peter's Square rebuilt and redesigned thanks to Gian Lorenzo Bernini between 1656 and 1667.
At the end of your 2-3 or 4 hours tour we will drive you at upir destination.
WHAT YOU CAN EXPECT:
Pick up at Civitavecchia Port
Arrival in Rome in 1 hour and 15 minutes minutes
2-3 or 4 hours tour of Rome with English Speaking Driver
Transfer to Fiumicino Airport
SUMMARY:
- Pantheon
- Colosseum (outside)
- Venice Square
- Trevi Fountain
- The Vittoriano
- Spanish Steps
- People Square
ADDITIONAL INFO:
- You will receive the voucher after the booking online
- Price per group/vehicle (maximum 8 passengers)
- The duration of the Tour and Transfer (4-5 or 6 hours) will depend on the traffic that day
- You can present the voucher either on a paper or on your electronic devices
- The drivers are not official tour guides and can only provide you basic information on the sites you are visiting
CANCELLATION POLICY:
You can always cancel the service. If you prepaid the service we refund you 100% if you cancel 24 hours before the service. No refund in case you cancel the service the day of your service.