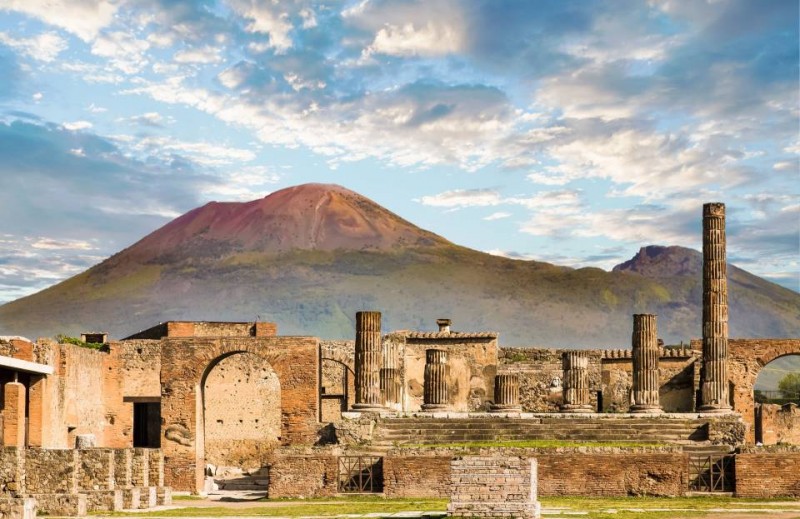 Take part in a fabulous journey through time and space to discover Pompeii, an incredible testimony to the Greco-Roman era. Start your experience by traveling along the Autostrada del Sole and crossing the suggestive Roman countryside, known as Castelli Romani with our luxury LIMO SHUTTLE minivan or sedan. Admire incredible views of the Mediterranean, Vesuvius and numerous historic site. Climb the Vomero hill for a view of the city that dominates the Gulf of Naples and extends from the Sorrento peninsula to the volcanic area of ​​Campi Flegrei. The skyline is dominated by the majestic Vesuvius, a still active volcano. It is the perfect place to take photos of this extraordinary natural site. Descending towards the port of Mergellina, head south towards Vesuvius and the city of Pompeii. After your visit to Pompeii, enjoy a traditional lunch and set off on the return journey through the Roman countryside enjoying the unique panorama along the way. You'll be back in Rome just in time to spend the rest of the evening in the Eternal City at your leisure.
IMPORTAN NOTICE:
- You must buy Pompei ticket entrance and reserve an official tour guide (2 hours tour of Pompei) in advance.
- We do not provide ticket entrance of sites or official tour guide. We can help you in this process after the reservation. Write an email to thelimoshuttle@gmail.com
- Otherwise you can reserve official Pompeii tour guide here: https://www.pompeilocalguide.com/index-en.php
- wear comfortable shoes
WHAT YOU CAN EXPECT:
Pick up beneath at your address/hotel: 7:00am or 8:00 am
Arrival in Pompei: 10:00am/11:00 am
Departure from Pompei: 14:00pm/15:00pm (depending on the starting time)
Arrival to Rome: 17:00pm/18:00pm (depending on the starting time)
EXCLUDED:
- ticket entrance
- lunch
INCLUDED:
- Transfer from Rome to Pompei & back
- English speaking driver
- Driver disposal in Pompei
- Water bottles
ADDITIONAL INFO:
- You will receive the voucher after the booking online
- Price per group/vehicle (maximum 8 passengers per Van)
- The duration of the Tour and Transfer (10 hours) will depend on traffic condition
- You can present the voucher either on a paper or on your electronic devices
- The drivers are not official tour guides and can only provide you basic information on the sites you are visiting
CANCELLATION POLICY:
You can always cancel the service. If you prepaid the service we refund you 100% if you cancel 24 hours before the service. No refund in case you don't cancel the service the day of your service.